Please welcome Blogger Shah Wharton from
Shah Wharton's WordsinSync
How long have you been blogging?
Since october 2010
What inspired you to start?
I used to write poetry and short stories on webook.com and made a few friends who began blogging and said I should get my own. So I did I didn't realise what a great big beast it would become :) It's been a revelation for me because before it I'd never shares such private information or met so many other people like myself (my blog used to be about many things including mental health/survivor issues and books/writing - now it's mainly books/writing). Because of it I've met loads of authors, learned so much more about the craft of writing and plan on publishing my first novel Sept 2012 - the first of a trilogy. Weird to think that only a few years ago all of my writing languished in darkened cupboards, unread. Now I plan on publishing a series of novels. Its also been a revelation because I'm incredibly shy in person, but making friends online doesn't require awkward small-talk. :)
What types of books do you feature on your blog?
Oh I do love to read. Well, I feature all sorts of books on my blog, though I only review genre I enjoy reading like paranormal, fantasy, horror, thriller and occasionally erotica.
What unique perspective, or events does your blog provide?
I used to offer two memes but they flagged and when I migrated from Blogspot to Wordpress (last month - it was a nightmare) I decided to dump them. I may start them up again, or do a new one especially for readers... mmm? I do miss running a meme and I haven't done one for readers before. Thats got my thinking now.... :) Watch this space.
What do you enjoy doing when you are not blogging?
Writing mainly, although I'm stuck in the editing phase right now which isn't great. *sigh*. I also enjoy watching movies (I've watched almost 100 so far this year), theatre and of course reading. Anywhere I can submerge myself into another world is good for me, apart from narcotic abuse. I don't want to lose my mind - I've done that already and didn't like it :P
Finally, if you could recommend one book that you've read recently, what would it be?
I'll get shot down for this I imagine but I have to be honest - The 'Fifty Shades of Grey' series. I've yet to read the third instalment and I only read the first one to see which of the critics were right - there are two very different critical camps. I expected the overuse of adjectives/adverbs and the repetitive descriptions to be enough to put me off, but I have to say - I'm hooked. No it's not well written in an academic sense, rather like Twilight, but it is well written in that it has created a need in me to read on. It's that need I search for in any book. Oh, and it's NOT a BDSM series either. Really. It's mild erotica or hot romance - neither of which is my great love, but somehow this works. Perhaps because it began as fan-fiction for Twilight, another guilty pleasure of mine :)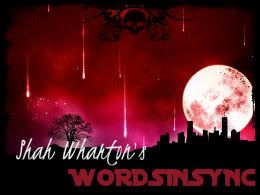 Be sure to check out WordsinSync.